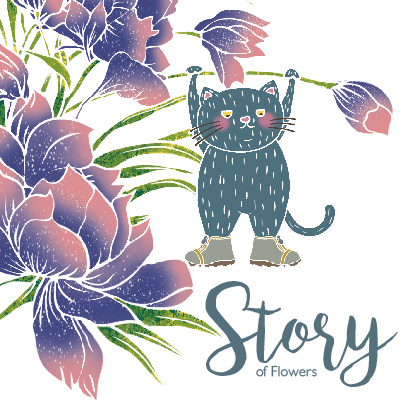 STORY OF FLOWERS FOR YOU FEAT. MEOWNDERER
There is a cat who wanders all year round, always wearing boots and bearing blooms.
No one knows where it goes, and no one knows who the flowers are for.
The cat never stays in one place, and is always on its way to somewhere else. So it is known as "Meownderer".
: Meownderer, where are you going?
: Somewhere.
: What lovely flowers you have. Who will you give them to?
: To they who were born in this month.
Every life that is born into this universe deserves to be blessed.
Flowers symbolize birth and rebirth, so they are a perfect gift to celebrate one's birth.
Every month has a birth flower with a special meaning all its own in the language of flowers. Wherever Meownderer has been, the fragrance of flowers lingers in the breeze.
This work was created by Albbie during the 2020-2021 pandemic.
As the pandemic caused unprecedented upheaval in the daily lives of people around the world, the artist spent two years sheltering in place at their home in Kuala Lumpur, one of the areas in Malaysia that was hardest hit by the pandemic. During this period, it briefly seemed impossible to achieve the most ordinary things, and even meeting with family or friends was out of reach.
So, pretending to just happen to pass by, Meownderer would casually bring a posy of flowers, casually ask how things are going, and casually walk away with a flick of its tail.